06/6/2023 10:47:36
Father's Day - A tradition
Father's Day is the occasion to celebrate dads everywhere on their special day.  Children show their appreciation to their dad (and adults to their partner who is also a father) by offering gifts as a sign of love and respect.

Joy and laughter often come as part of the package and through these few small gifts, Dad is honored for the protection and generosity that he provides.
Chocolate can be an original idea to celebrate the occasion by bringing a little sweetness into the life of the man of the house and the huge range of varieties and selections allow this delicious gift to become truly personal.
Belgian chocolate is world famous for being made by the most skilful artisan chocolatiers, each of whom builds on the country's acknowledged tradition and expertise.
A box of these precious treats can symbolize a child's love for a father, while the intensity of the flavors can combine with the intensity of feeling behind the gift.
Planète Chocolat offers a range of chocolate selections, truffles and pralines: there are so many ways to enjoy this classically elegant product.
Every man is different and therefore so is every dad, but there is a chocolate to suit every character.  All kinds of chocolate feature in a wide range of products, including chess sets made from dark chocolate, chocolate with Arabica coffee, chocolate-coated coffee beans, and our own ganache sticks for hot chocolate.
Still more varieties exist, satisfying every conceivable taste thanks to a limitless supply of artistic invention and passionate, enthusiastic professionals who meet standards of excellence that can only be appreciated through experiencing their work.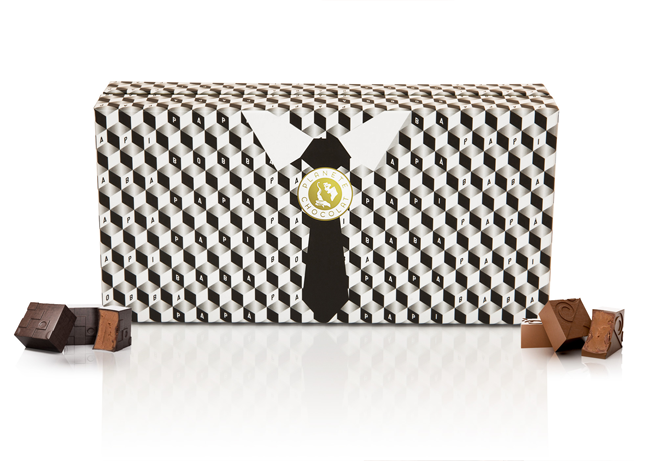 The effect of pleasure is multiplied when that pleasure derives from a loved one – and this gift is sure to delight the dad who receives it, particularly when it is eaten with the entire family in a spirit of kindness and generosity.
Chocolate's virtues do not derive only from its taste, but also from the shared pleasure of spreading love and from bringing sweetness and pleasure to those who enjoy it.  Consequently, this is one gift that will serve as a symbol of the happiness brought by the simple pleasures in life.
Produits liés