04/11/2016 14:13:36
Recipe for a delight Chocolate Cheesecake
Today we honor the culinary talents of SiaSoulfood who made a delicious chocolate cheesecake using our original dark chocolate. Sia is sharing the secrets of her recipe and frankly, we fell in love!
Sia :

Today, all chocoholics are getting their money's worth, because I'm taking you to choco-heaven. There is an absolutely delicious, lightly creamy and chocolatey Chocolate Cheesecake! That sounds amazing, doesn't it? Well, I'm already in choco-heaven.

Difficulty: Easy
Preparation: 20min
Baking time: 2h
Rest: 4h30
Total time: 6h50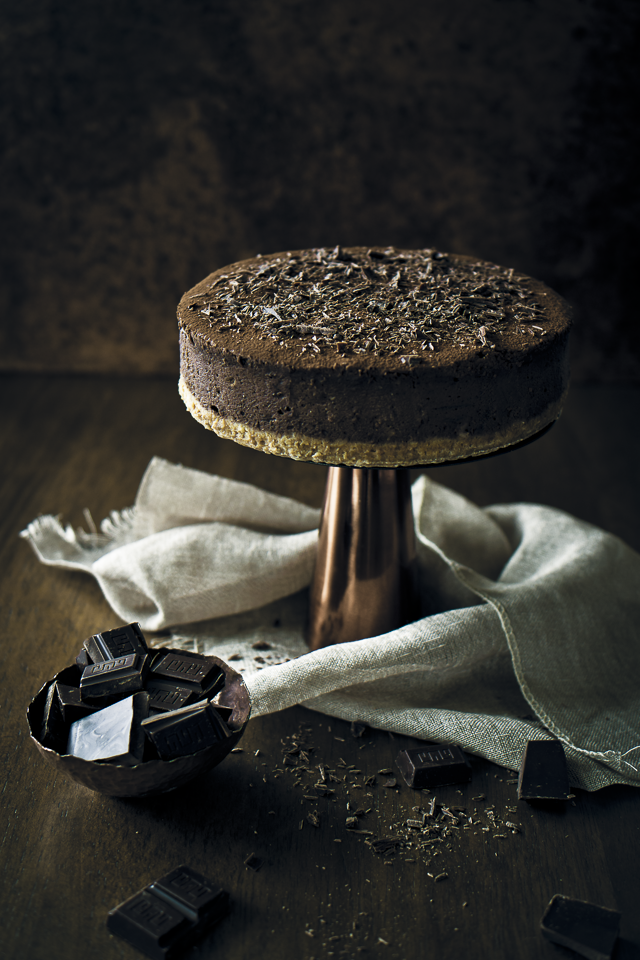 When Planète Chocolat asked me a few weeks ago if I would like to try their products and develop a recipe for them, I didn't hesitate too long! Me as a chocoholic, there's only one answer to chocolate: YESSSSS!!! I was blown away by the variety of chocolate on their online shop and would have rather gorged myself on everything. Belgian pralines, truffles, chocolate bars, chocolate fondue...mmmmm!!!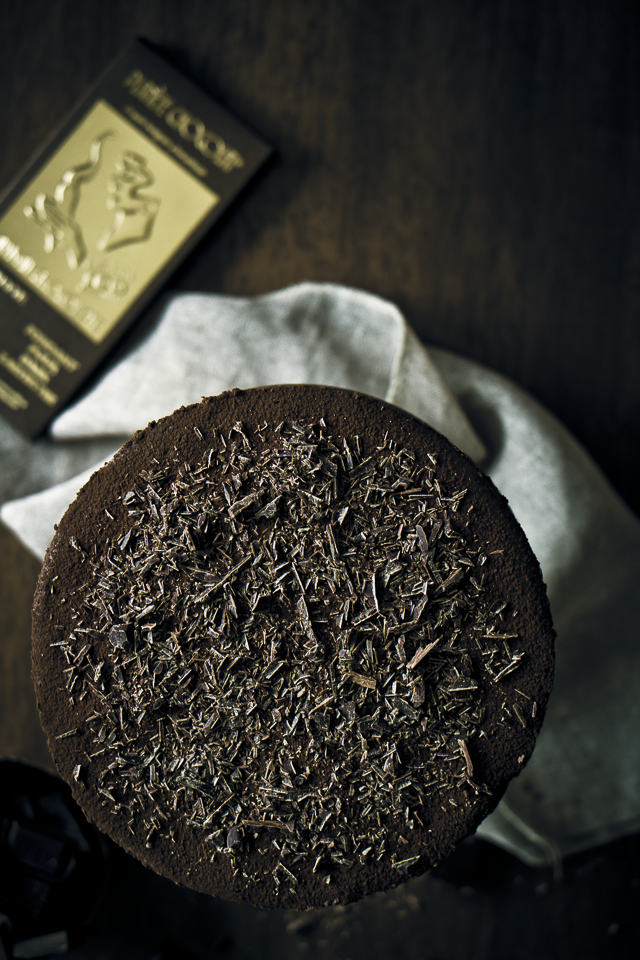 You really want to know for which products I decided to make this yummy recipe, don't you? I chose dark chocolate Peru 64%, cocoa powder and cocoa butter.
It was clear from the beginning that I wanted to bake a chocolate cheesecake.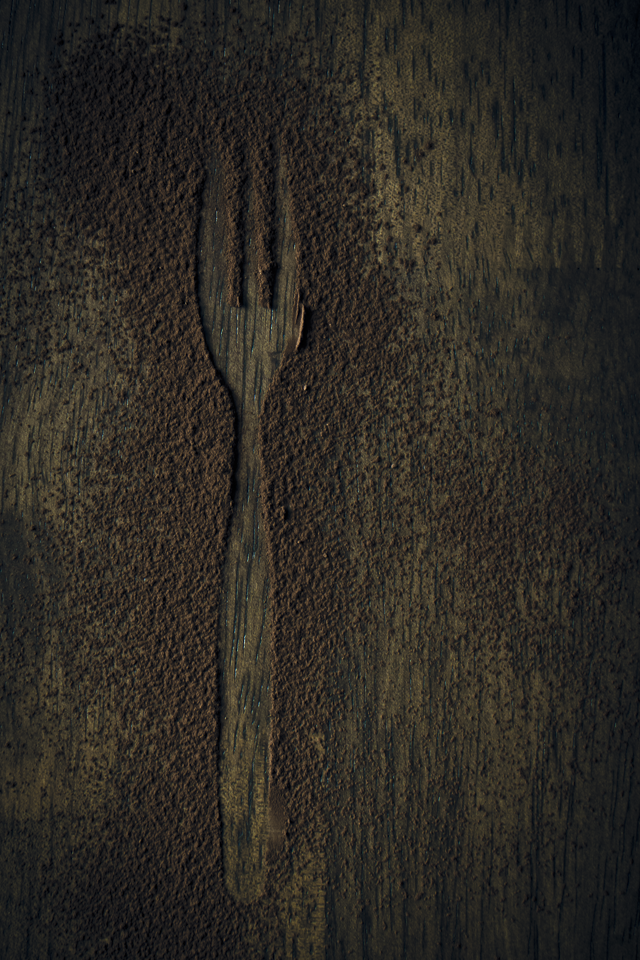 I've often baked cheesecakes, but never a chocolate cheesecake. Moreover, I tried the bain-marie method for the first time and I must say that I will only use that method for baking cheesecake from now on. The cake is much fluffier and creamier than with "normal" baking and the top layer doesn't break at all. The cocoa butter was used for the bottom layer. And do you know what?! The taste fits perfectly well with the other chocolatey ingredients.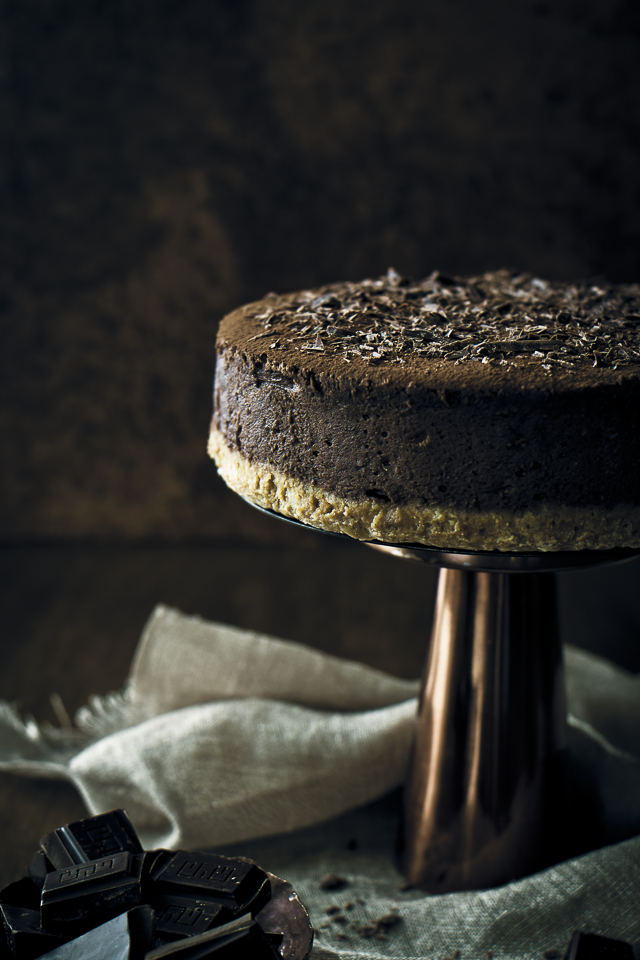 Cocoa butter for the bottom layer, rich dark melted chocolate and fine cocoa powder in the cheesecake mixture. I'd say it was an «authentic triple chocolate cheesecake».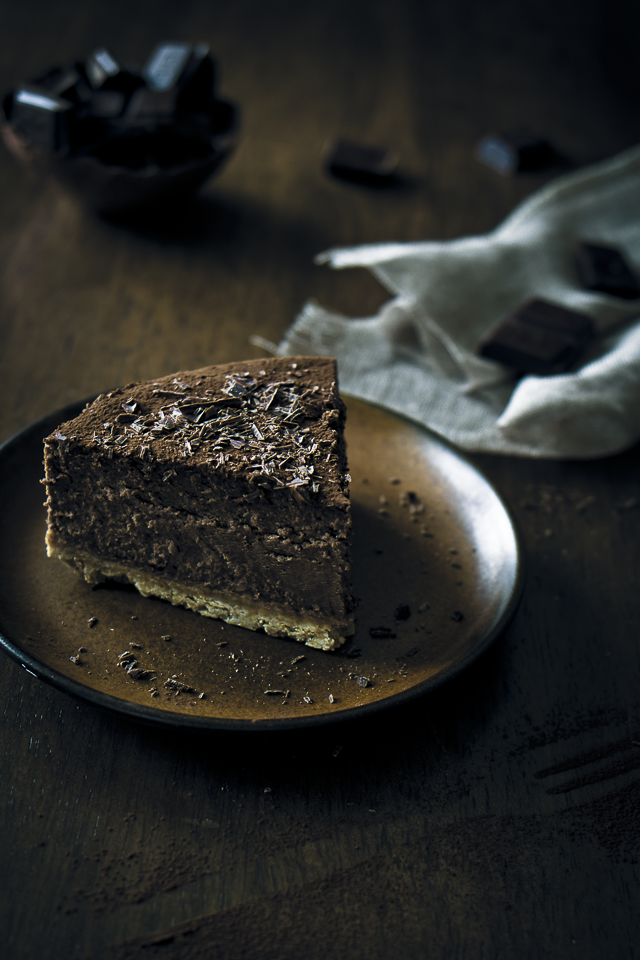 Ingredients (Ø 7 inch springform pan)
 For the base
• 3.5 oz shortbread cookies
• 2.5 oz cocoa butter
For the cheesecake mixture
• 14 oz cream cheese
• 3.5 oz sour cream
• 5.3 oz sugar
• 1 package vanilla sugar
• 2 eggs
• 1.8 oz dark chocolate
• 2 tbsp. cocoa powder
• 2 tbsp. cornstarch
• Cocoa powder and chopped chocolate for the decoration
 
Preparation
 
• Take out all ingredients (cream cheese, sour cream, and eggs) from the refrigerator about 2 hours before baking the cheesecake in order to reach room temperature
• Prehead the oven to 320° F and cover the bottom of the baking pan with a pan liner
• For the bottom layer, put shortbread cookies in a freezer bag and crush them with a rolling pin. Melt cocoa butter and mix it with crumbs. Then spread them evenly along the bottom layer of the baking pan, press down, and let set in the fridge
• Break the dark chocolate into pieces and melt them in a warm bain-marie. Put aside to cool off
• Stir cream cheese, sour cream, sugar, and vanilla sugar until smooth. Scramble eggs in a bowl and stir until smooth with the cream cheese mixture. Don't stir too long to prevent bubbles from forming
• Sift cocoa powder and cornstarch and add it together with the melted chocolate; make sure it is mixed well
• Pour the cheesecake mix onto the cookie crumb mixture and smooth down. Now put the springform pan on two layers of aluminum foil. Wrap the aluminum foil tightly around the baking pan to avoid that water can get in
• Put the springform pan in a somewhat larger, deeper baking tray or baking pan. Add as much boiling water to the baking pan until the springform pan is halfway submerged in water
• Bake cheesecake on the middle rack for 1 ¾ to 2 hours and prevent opening the oven door for any reason
• Turn off the oven and take the cheesecake carefully from the bain-marie, remove the aluminum foil and let it sit inside the oven for approx. 30 minutes
• It's recommended to let the cheesecake cool down thoroughly for 4 hours in the refrigerator
• For the decoration, dust with cocoa powder and sprinkle with chopped chocolate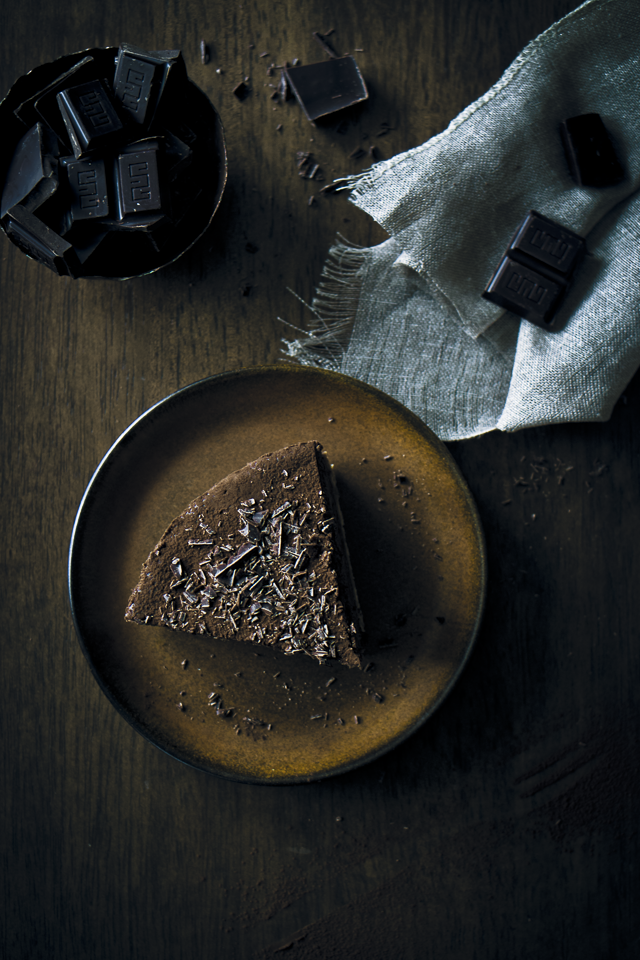 Come on, it's yours! Feel free to share your pictures of cheesecakes with the hashtag #cheesecakechocolatbelge or post it below in the comments!
Produits liés