05/20/2016 11:40:35
Recipe chocolate chip cookies with sea salt
Today we are honoring the culinary talents of Kochkarussell who baked a delicious chocolate chip cookie with our original chocolate. Mia shares the secrets of her recipe and we are not afraid to admid that we are absolutely addicted to her cookies!
Mia:

 

I love cookies. 

There's only one tiny problem. Waiting for the dough makes me exhausted. While the dough sets in the fridge, I like to wolf down a). a bar of chocolate or b). the package of cookies that has been lying around in the pantry forever.

Emergency cookie rescue? 

Gigantic Chocolate Chip Cookies with Sea Salt

. With no waiting period whatsoever!

.

Difficulty: Easy
Preparation: 30min
Baking time: 15min
Total time: 45min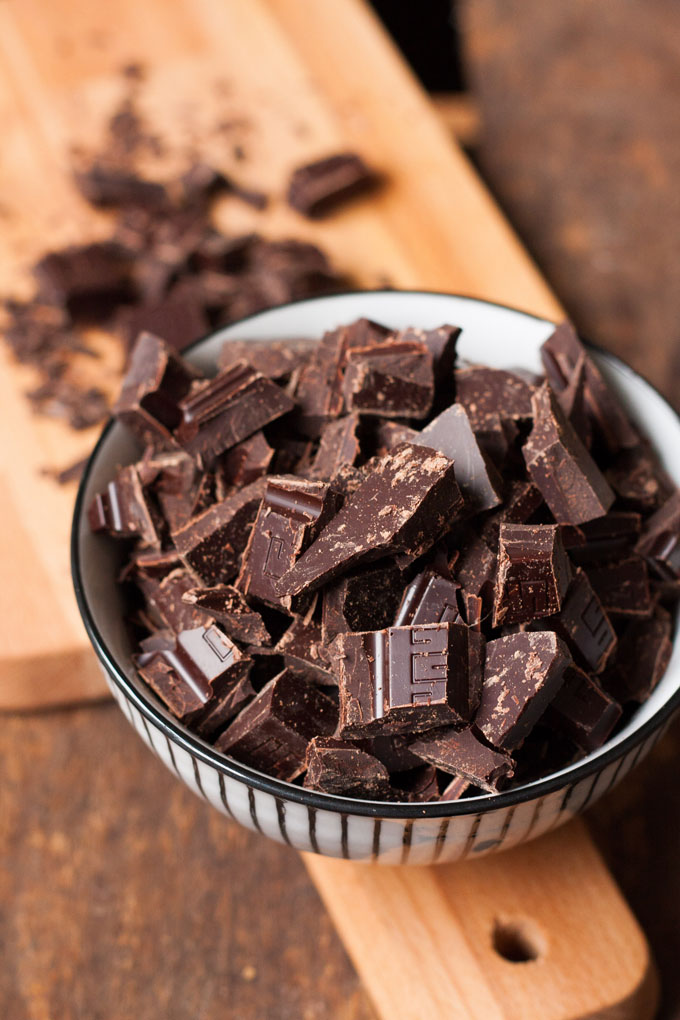 The most important part first: You MUST try these extra-chocolatey cookies.
Chocolate chip cookies with sea salt are:
• Simple
• Chocolatey
• Crispy on the outside, soft on the inside
• Sprinkled with thick chunks of chocolate
• Sweet and salty at the same time
• Vanilla-flavored
• Irresistibly good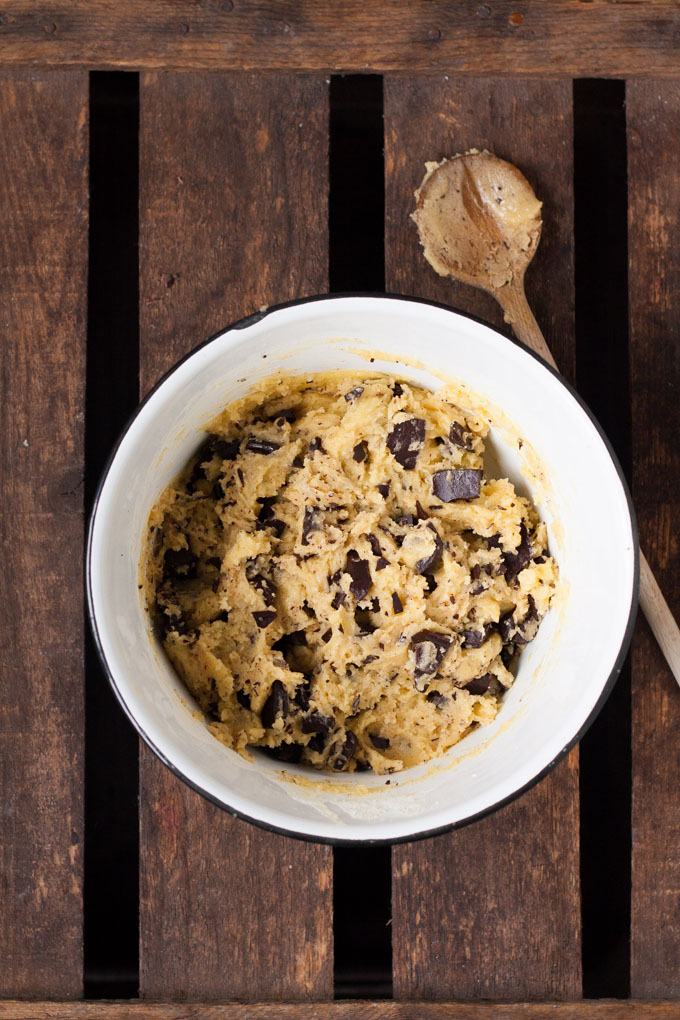 Sounds pretty tempting, doesn't it? I'm telling you. These cookies go faster than you can say Oh, you gluttonous cookie monster.
But it's no surprise either. None of us can pass up crispy-soft cookies, packed with thick chunks of chocolate and sea salt, can we? Ready for my favorite chocolate cookies of all time? Let's go!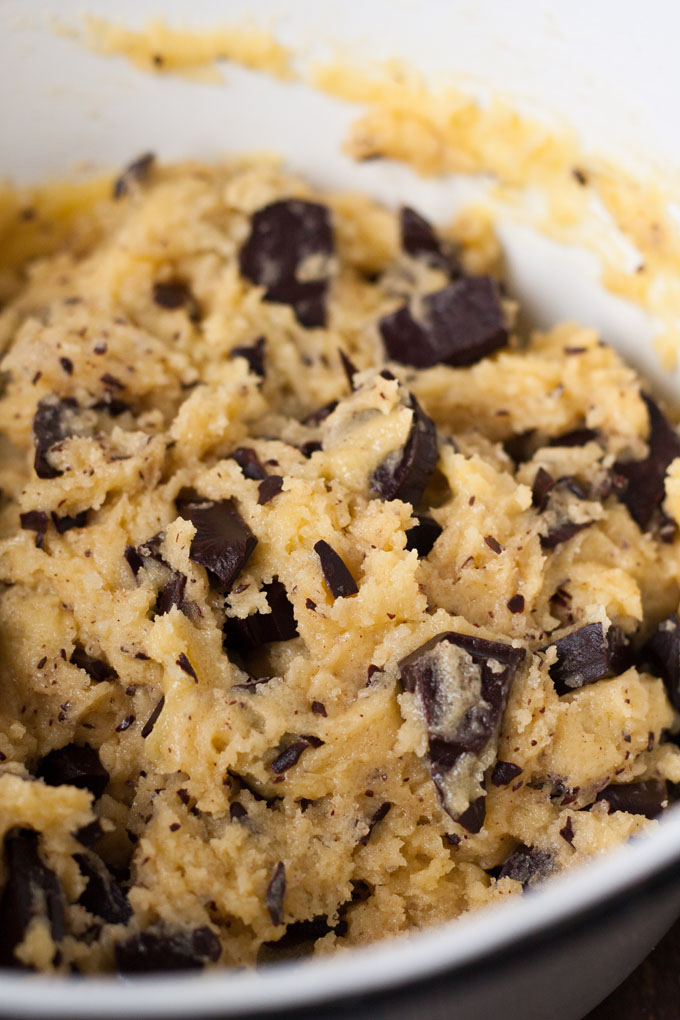 In making the dough, it is important that you follow the recipe step by step. I'm also one of those people who want to add "their own personal touch" to every recipe. But: Not when baking, kids! If the dough is still too soft, just let it stand for a few minutes. In time, the butter will set and you can get going. Roll the dough into balls, divide them on a baking tray, and sprinkle the top of every ball with a few extra-chocolate pieces...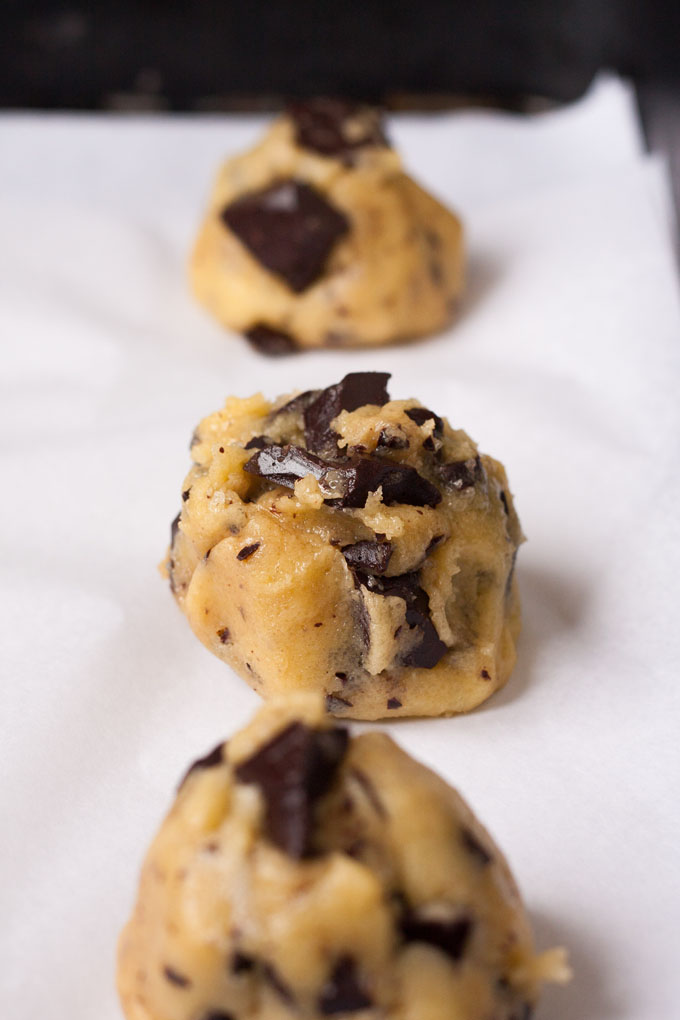 Rol het deeg en maak er balletjes van, die je over een bakplaat verdeelt en stop een paar extra chocoladestukjes bovenop elk balletje…
…Bake the cookies until the edge is just firm enough and a little crispy. It's okay if the middle is still soft. And if you can hold back from nibbling even a tiny piece of the warm chocolate chip cookies with sea salt, I'll give you a medal. At least. It's practically impossible!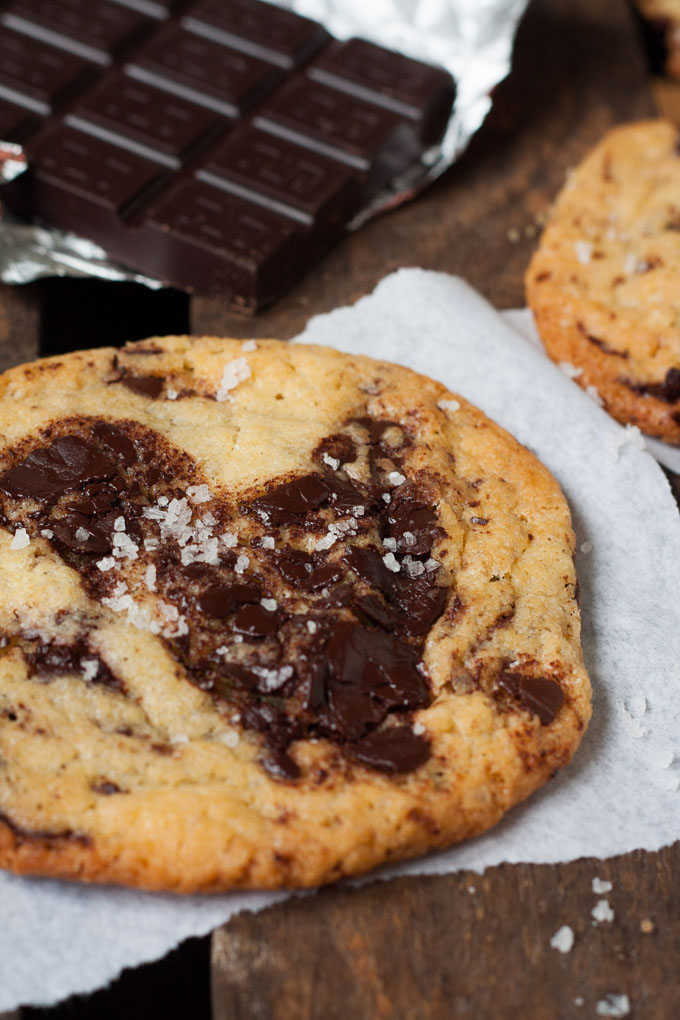 The cookie recipe is for 12 portions!
Ingredients
• 260 g flour
• ½ tsp baking powder
• 2 tsp coarse sea salt
• 200 g dark chocolate
• 170 g butter, melted
• 220 g brown sugar
• 100 g sugar
• 1 Tblsp vanilla extract
• 1 egg + 1 egg yolk
 
Instructions
 
1. Cover baking tray with baking paper and preheat oven to 338 degrees Fahrenheit
2. Mix flour, baking powder, and sea salt in a bowl. Set aside
3. Chop the chocolate
4. Mix butter and both types of sugar until creamy. Mix in vanilla extract and eggs. Mix in flour mixture until everything is mixed together. Carefully fold in the chopped chocolate with a cooking spoon
5. Make 12 balls from the dough. If the dough is still too soft, simply let stand for a few minutes until the butter sets more
6. While forming the balls, also make sure that a few chunks of chocolate are divided on the top of each of the cookies
7. Space six cookies properly apart from each other on a baking tray
8. Bake 12-15 minutes until the edge is just done and a bit crispy. The inside should still be soft
9. Let cookies cool off on the baking tray for five minutes, and then put them on a cooling grid
10. Bake the remaining cookies the same way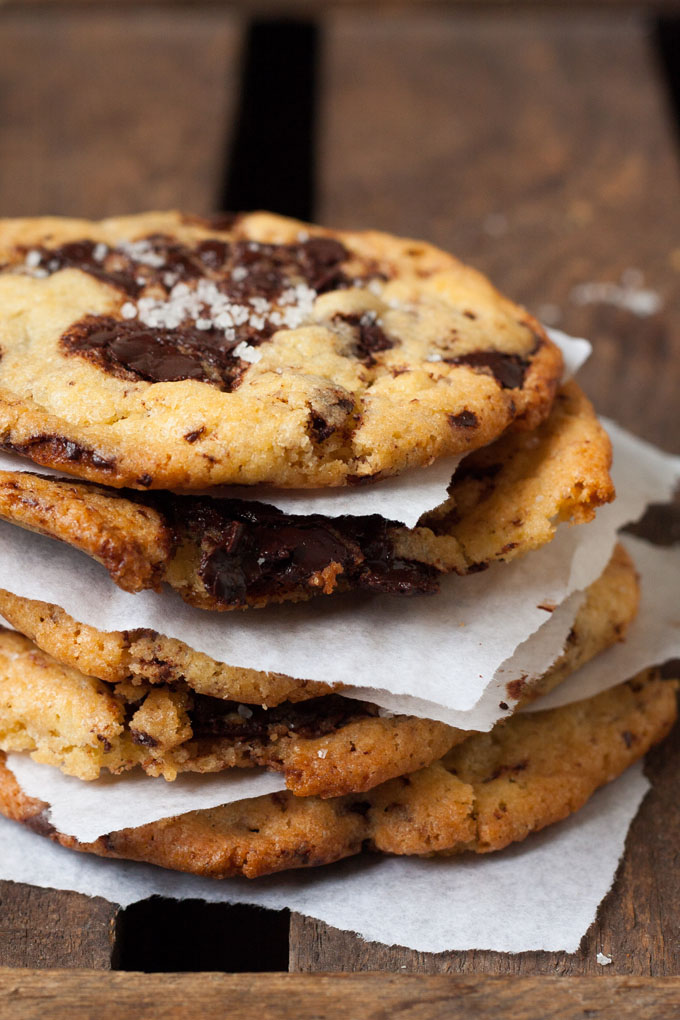 What's important for really good chocolate chip cookies? Really good chocolate!
For this recipe, I have joined forces with Planète Chocolat. The Belgian chocolate manufacturer (Oh. My. God. Yes!) have absolutely knocked my socks off with their delicacies. You do know that I'm a bit of a chocolate fan. And I'll be honest. One or two bars of chocolate have ended up in my stomach during my lifetime.
But such good chocolate? Negative!
And even the pralines are by far the most delicious pralines I've ever eaten. If I hadn't been kneeling on the floor while taking them from their package, I certainly would have fallen from my chair.
I admit that I wondered where to hide the package for a fraction of a second. These little things are really so delicious that is is prettttty difficult for me to share them. But of course, I'm also an especially strong, nice, and capable-of-sharing friend. And besides, now I know where to replenish the supply.
Naturally, these chocolate delicacies aren't exactly cheap. But: The taste! Holy Moly! I'd happily fork over a bit more dough for these. And I am quite certain: after the first piece, so will you. Quick, easy, and packed with thick chunks of chocolate – you are going to love chocolate chip cookies with sea salt.
PS: Still looking for a great Mother's Day gift? Then check out Planète Chocolat. There you will find the most delicious handmade types and I can also heartily recommend the praline selection for mom. Bonus: Delivery time takes just one day. So, get on it!
The entire Planète Chocolat team is grateful to Mia and her blog, Kochkarussell, for this delicious recipe and the extremely pleasant collaboration.