06/29/2015 05:55:51
Making Chocolate Mendiants - The recipe
In the Planet Chocolate workshop, the chocolatiers also make caracks, chocolate shapes without fillings, hollow subjects, truffles, mendiants, nougatines,  orangettes… by means of an artisanal method.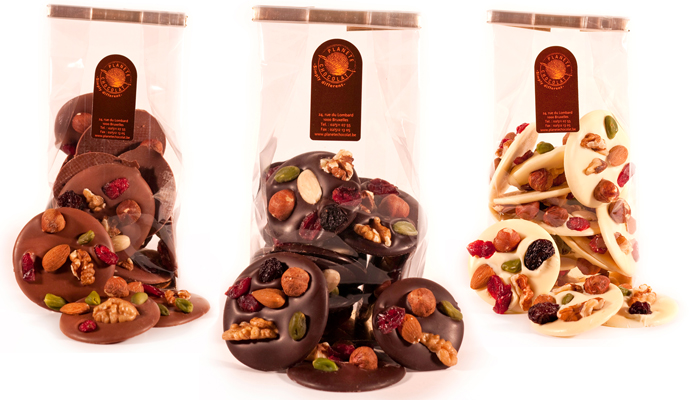 How we make mendiants at Planète Chocolat
The liquid chocolate is first spread out over a marble table in order to pre-crystallize it. This process is essential since it enables the temperature of the chocolate to be reduced to 30-32 degrees. The pre-crystallization makes the chocolate uniform, beautiful, glossy and crunchy. Chocolate that has not been crystallized gives a dull, greyish result. The chocolate has to be transferred and agitated on the table with a pallet and a scraper. The chocolate crystallises once it becomes thicker and more resistant: it will harden better and more quickly. The chocolate is poured into a bowl and then into a ladle.

From the ladle, chocolate discs are formed on a sheet of greaseproof paper. A few minutes are enough for the chocolate to harden. During this time, the dried fruit is added: nuts, Chilean raisins, pistachios, almonds and Piedmont hazel nuts.
« Et voilà » your turn !

Sweet treats that can be enjoyed during the Holidays, they go hand in hand with a cup of tea or coffee. They are also the pefect morning snack for your little ones as dried fruits are full of energy.
Did you know?
The colours of the fruits and nuts displayed on the chocolate base allude to the four orders of the Church mendicants. These colours are reminiscent of the robes worn by the mendicant monks of the Church in the Middle-Age
Franciscans

 (the grey friars), founded in 1209 = grey (the raisins)

Carmelites

 (brown friars), founded in 1206-1214 = brown (hazelnuts, nuts)

Dominicans

 (white friars), founded in 1215 = white (almonds cut in halves)

Augustinians

 (Saint-Augustin friars), founded in 1244-1256 = dark purple (figs, cranberries)
Produits liés