06/26/2016 07:25:50
Macarons in Brussels
Colorful and tasteful gift box of macarons

The arrival of summer and its high temperatures won't keep you from eating chocolates, especially if those are artisanal and made by master chocolate makers.
This is being the case of chocolate macarons, which are light and fresh products, genuine candy to be savored and shared throughout summer, and so much more!
| | |
| --- | --- |
| | It only takes a look at these pastel colors to be charmed and let yourself long for one of these 16 little snacks, delicately confined into a stylish macaron box placed in a little bag stamped with Planète Chocolat. |

The macarons are the result of a rich heritage
Master macaron makers have made these macarons in a traditional way. Their will is to go with a noble and natural way to manually conceive and develop an appetizing bite when looking at it and the final explosion in your mouth.
Thus, each piece exhales two types of crunchy sweets: Buttercream, baked sugar (100% pure butter) and with ganache (fresh cream containing 40% fat).
Flavors are then crafted with fresh fruits and Belgian chocolate. Only the best quality of chocolate is used, with one coming from Ghana (orange chocolate macaron), one from Java (passion fruit chocolate macaron) and one from Peru (raspberry chocolate macaron).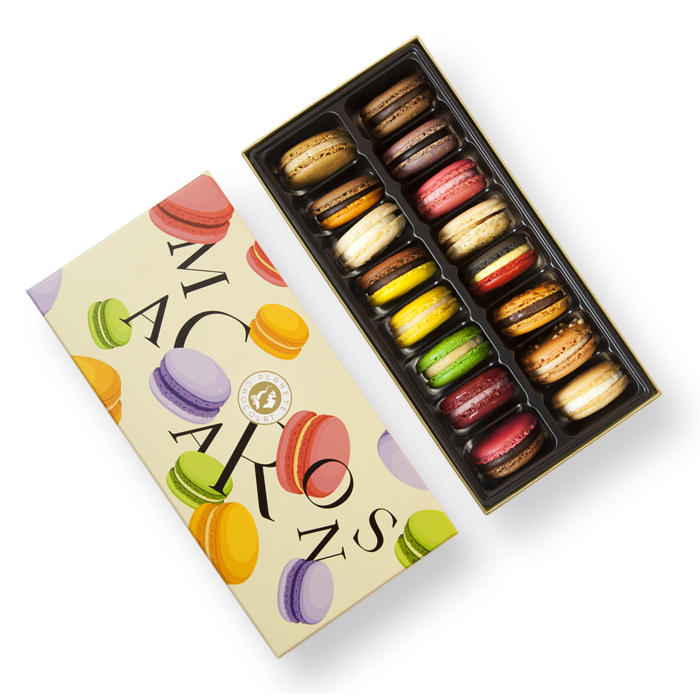 Macarons with purely 100% natural flavors
A particular care is made upon the products which are of 100% natural origin. We can mention Madagascar vanilla pods, Wépion strawberries (Belgian province of Namur), pure Sicily pistachio paste or even Italy violets.
You should know that no flavor could replace natural taste, guaranteeing 16 flavors with excellent culinary finesse: Orange-chocolate, spéculoos, coffee, violet, almond milk, lemon, pistachio, chocolate raspberry, strawberry, brésilienne hazelnut, chocolate, raspberry, passion fruit-mango, salted butter caramel, chocolate-passion fruit, vanilla.
Box of macarons with free shipping and dedicated conditioning
Soucieuse d'assurer une prestation la plus complète qu'elle soit, au-delà même de la simple dégustation, la maison Planète Chocolat met à votre disposition un service de livraison totalement gratuit.
Since we care so much about providing you the most complete performance, looking beyond tasting, Planète Chocolat offers a free shipping service to its customers. In order to allow a smooth delivery to keep the quality of our macarons, we have chosen a very powerful isothermal transport solution. Its role is to protect the cold chain, as well as respecting the product quality and taste. To do so, each box comes with two ice packs to maintain a temperature below 20°C (68°F) until delivery.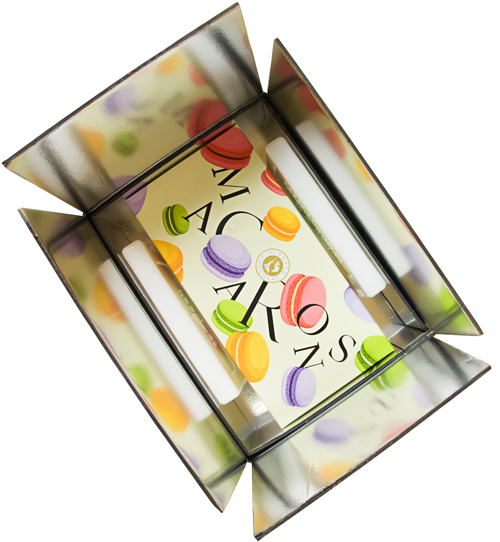 Moreover, this eco design respects the environment thanks to energy savings with its compactness, isothermal protection and lightness of the box. Finally, the isolator is reusable and integrates a waste management system.