09/2/2017 19:53:11
Fruity recipe from Athens
Today, we celebrate the culinary talents of Hermione, the author of the Greek blog The one with all the tastes. She made a delicious recipe of roasted peaches accompanied by ice-cream using our white chocolate with speculoos of the Gourmet Collection. Hermione shares with us the secrets of her recipe which will delight all the gourmets!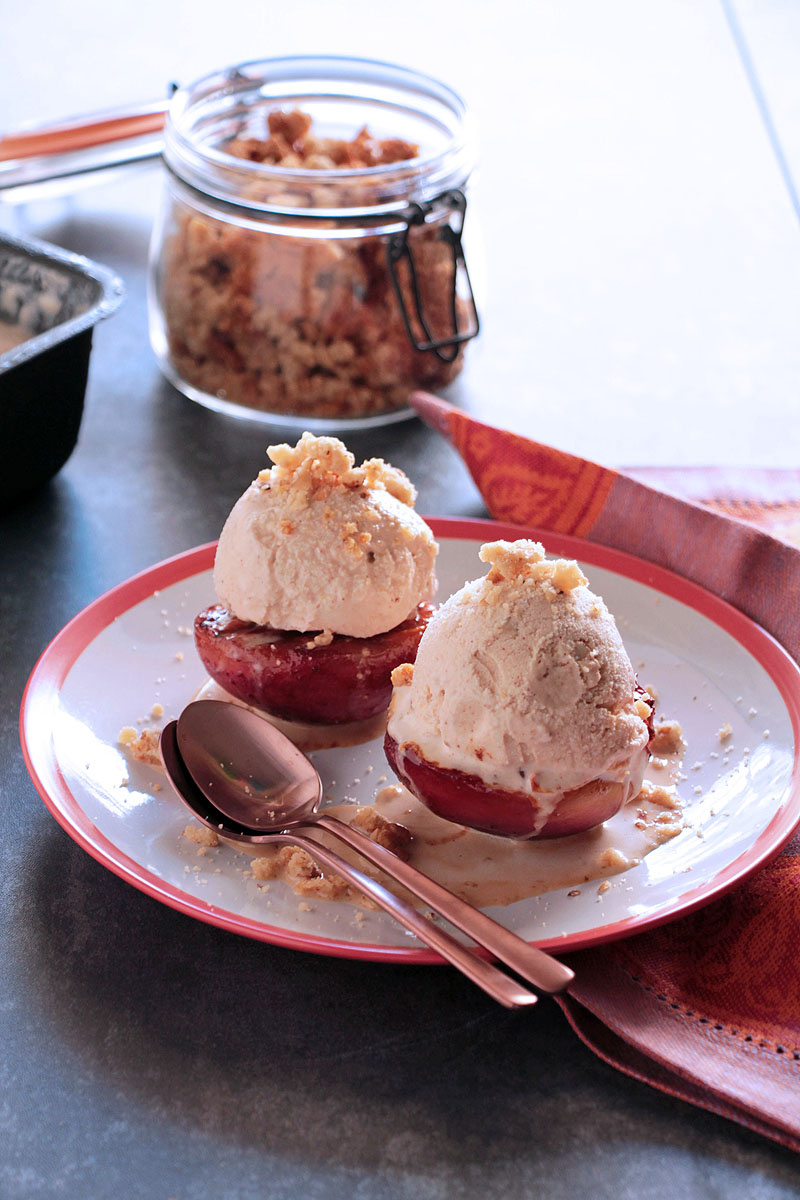 RECIPE
Preparation : 3hours and 45 minutes
Cooking time : 35 minutes
Total time : 4 hours and15 minutes
Serves 4
INGREDIENTS :
For the ice cream:
         1 L whole fresh milk
         650 g cream (35% fat)
         320 g honey
         80 g glucose syrup
         1 tbsp vanilla extract
         1 tbsp cinnamon
         2 tbsp corn flour + 2 tbsp fresh milk
         150 g cream cheese at room temperature
         100 g Planète Chocolat's white chocolate with speculoos, chopped
For the crumble:
         65 g nuts
         160 g all-purpose flour
         40 g icing sugar
         2 tbsp brown sugar
         90 g melted warm butter 
For the peaches:
         2 carefully cut and pitted peaches
         a bit of brown sugar, cinnamon and honey
INSTRUCTIONS :
1. In a saucepan, mix the milk, cream, honey, glucose syrup, vanilla extract and cinnamon together and bring to a boil while mixing on medium heat. During this time, stir regularly.
 
2. Dilute the corn flour in 2 tbsps of milk and add to the mix. 
 
3. Continue boiling until the mixture slightly thickens.
 
4. Remove the saucepan from the heat and add the cream cheese. Stir vigorously with a whisk, until all the ingredients have blended together.
 
5. Place the mixture in the refrigerator for 3-4 hours, until it is well-chilled.
 
6. Prepare the ice cream according to the instructions of the ice cream machine.
 
7. Just before the ice cream freezes completely, add the chopped white chocolate.
 
8. Transfer the ice cream in a container and place it in the freezer.
 
9. For the crumble, preheat the oven to 180oC and line a baking sheet with parchment paper.
 
10. Place all the ingredients for the crumble in a food processor and blend until large and small crumbs form.
 
11. Spread the dough out on the prepared sheet and bake for 12 to 14 minutes, stirring 2 to 3 times during its cook time.
 
12. Let the crumble cool completely and then transfer to an airtight container. You can store it at room temperature for a week.
 
13. Brush peach halves with honey and sprinkle with cinnamon and brown sugar.
 
14. Grill the peaches, with the cut side facing upwards for approximately 10 minutes. Turn them over and grill them for an additional 10 minutes.
 
15. Serve the peaches with the ice cream, crumble, and if you like, top them with a bit more honey, for extra awesomeness!
 

On your marks, get set, go! And let's admit it… we are huge fans of "Pitch Perfect", right?
Please don't tell me that you don't know what "Pitch Perfect" is! Anna Kendrick, the Barden Bellas and a surprisingly entertaining musical comedy!
My girls and I just love it! We watch it (and sing along to it of course) one or two times a month. During those two hours, my husband puts on his headphones and locks himself in his office, showing us his incredible patience.
"Pitch Perfect" always makes me think of peaches. Pitch- peach, it goes without saying. We recently watched a trailer for the third movie of the series and I thought that it was about time to make something fruity!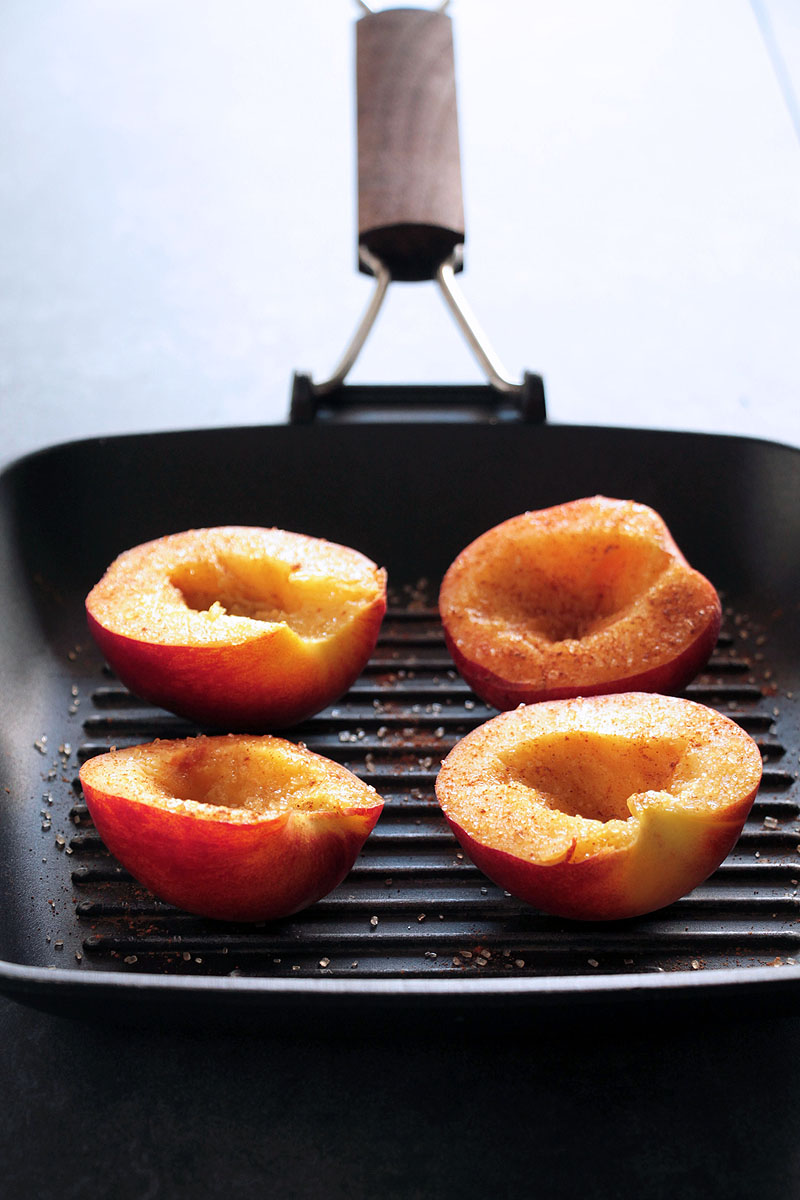 My first thought was to make a peach galette. The heat however discouraged me from turning on the oven and made me think of lighter desserts, so I decided to leave the peach galette for another day.
And prepared these grilled peaches instead. But, these are not your ordinary grilled peaches!
These are soft and caramelized, served with a delicious homemade ice cream and a crunchy nutty crumble!
For the ice cream we use honey and glucose syrup instead of sugar, as well as corn flour instead of eggs.
It requires an ice cream machine, but of course, if you don't have one, you can simply stir the ice cream every 30 minutes for about 3 hours as it freezes in the freezer. 
Now I understand that this ice cream may seem a bit "demanding" as it requires a certain amount of work in order to obtain a dreamy creamy texture.
However if you love the sweet and spicy cinnamon aroma, I am pretty sure that you will love this ice cream as well!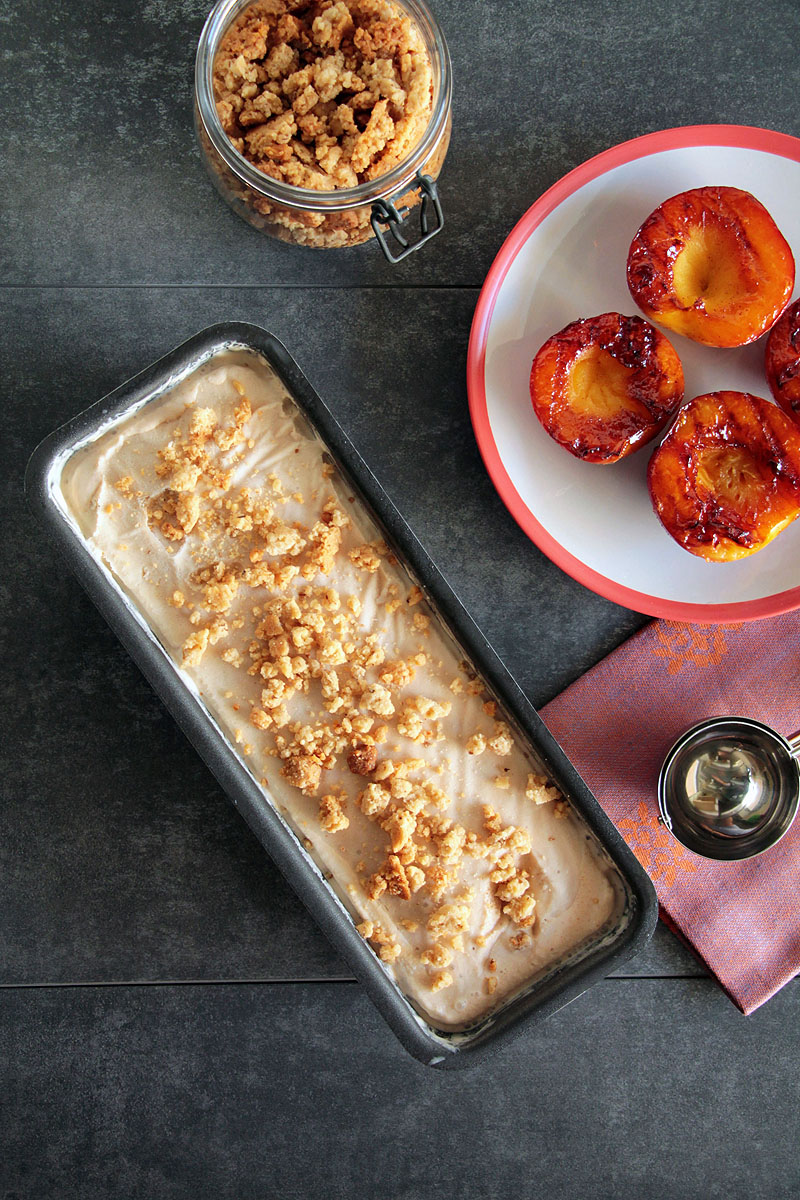 The crumble is optional of course, but in my opinion, don't leave it out!
It's delicious and creates an interesting mix of textures. It pairs perfectly with this ice cream. Or really, any kind of ice cream! Or with yoghurt! Or with nothing at all! Oh yes, you can perfectly eat it on its own!
Just before completing the preparation in the machine, I added pieces of white chocolate with speculoos from the Belgian chocolatier Planete Chocolat. Belgian!
A few days ago, I had the pleasure of receiving Planete Chocolat's "Gourmet Collection", which includes 7 different bars of chocolate. Ever since I have been very impatient and couldn't wait to use at least one of them in a recipe.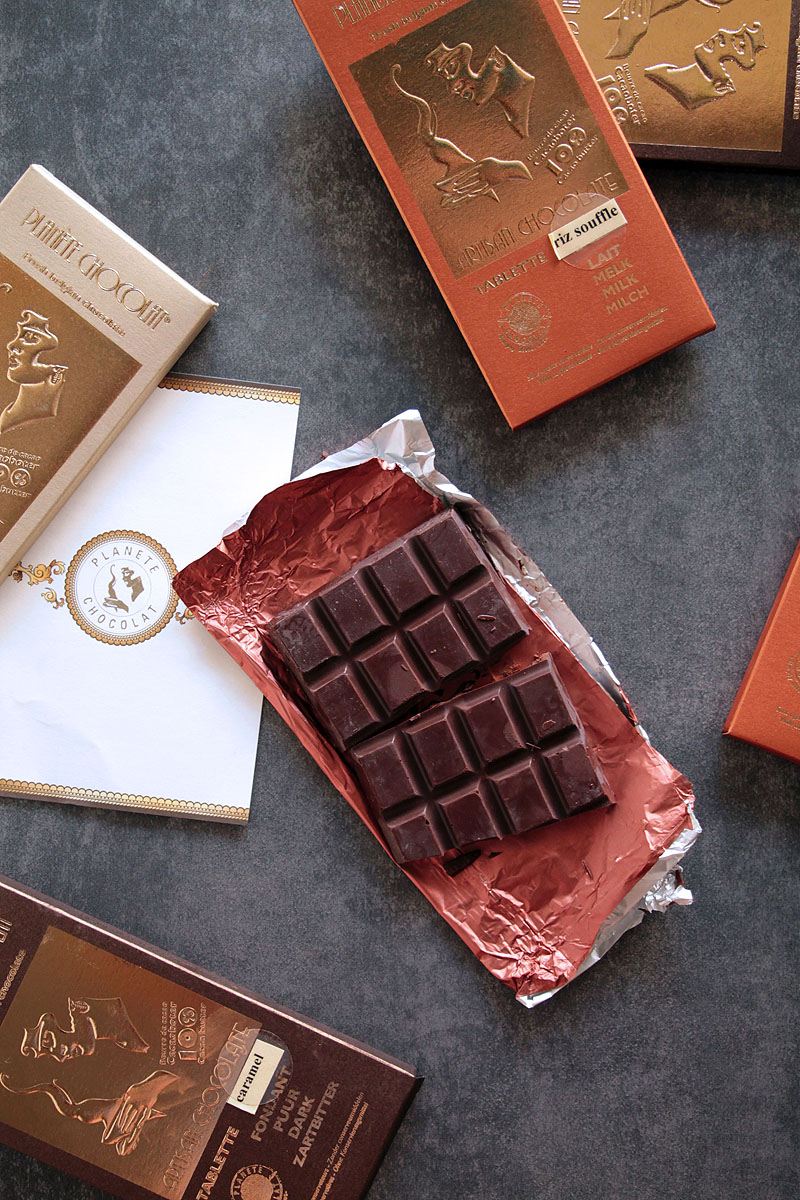 Despite the hot weather and the elevated risk of them melting, I received the chocolates in excellent condition, since they were shipped in an isothermal package.
In addition, it worths mentioning that Planete Chocolat delivers worldwide -including Greece- within 24 hours! How great is that?
For the time being, we've tried the white chocolate with speculoos and we've really grown fond of it. Great aroma, a deep and very pleasant -somewhat childlike- taste and an after-taste that is light and long-lasting.
In fact, we loved it so much that someone (but who?!) took the last two pieces of chocolate that I had left on the kitchen counter-top in the hopes of photographing them, and secretly ate them!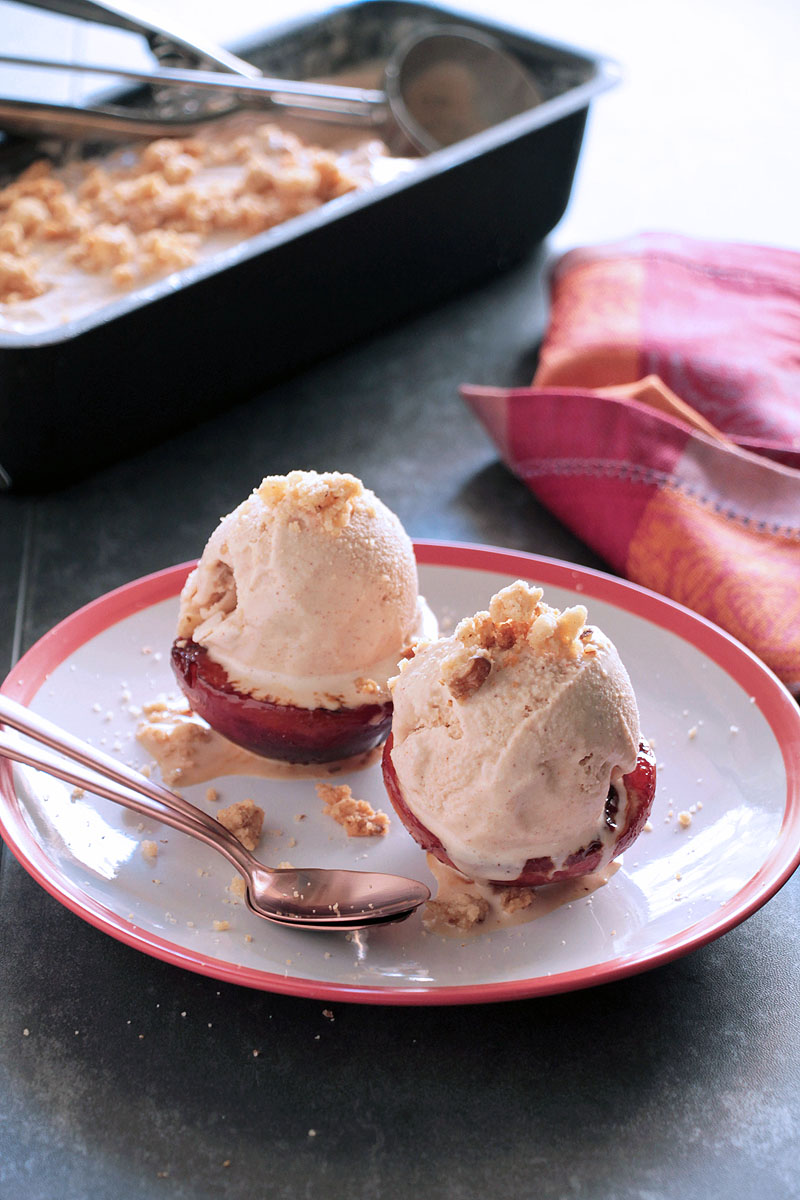 Have you tried this recipe?
Please let me know if you liked it! Leave a comment below, send me an email or take a photo of the recipe and share it on Instagram while adding the hashtag #theonewithallthetastes