Chocolate Making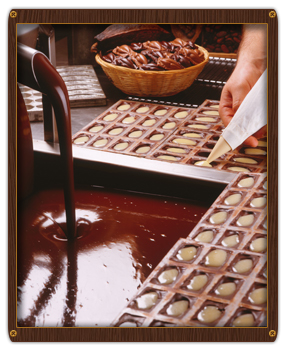 An expression of Belgian art. An expression of pleasure.
Is the best chocolate Belgian? Probably. Is the best chocolate art? Definitely. This is because it originates from a conceptual and creative process. Firstly in the choice of form, especially when sculptors, designers and other artists are involved. Secondly in the choice of flavour: the alchemy of tastes achieved when a master craftsman has created the miniature work of art. The best chocolate is an expression of pleasure. Oh yes, the most intense and sensual of pleasures, with its own tasting rituals; the most complete of pleasures, with a mounting intensity of flavours followed by a moment of satisfaction.

This fine chocolate is brought to you by Planète Chocolat.

We are advocates for quality, for the exclusive use of premium natural products. 
We take pleasure seriously here.
Planète Chocolat's ambition is to defend the place of art in food, an art form which is ephemeral but also continually being reproduced. The medium itself, chocolate, enjoys an image which is both prestigious and Belgian. We felt this should also be true of the form. So we decided to get Belgian artists to design our chocolates, artists representing very diverse artistic trends. These little pieces of Belgian chocolate thus become veritable ambassadors for Belgium abroad.
Art is sometimes ephemeral...
Chocolate making
An extract from our DVD about the history of chocolate and how it is made.
Make up your own small box of chocolates in our online shop
Discover the essence of a genuine, artisan chocolate shop! Create your own small box of chocolates by selecting your favourites one by one in our online shop.

A pleasure to make, a pleasure to provide.
A pleasure to share or enjoy alone,
from the first step to the last bite,
that is our ambition.